By Jen.
When an American thinks of Australia and what there is to see there, they most commonly think of Ayers Rock, which is more correctly named Uluru. We had finally arrived to see it after nearly 6 months (1 week short) of being here. It was about what we expected: a big rock and a tourist trap. To be fair, it is much more than that, but not nearly all it is hyped up to be.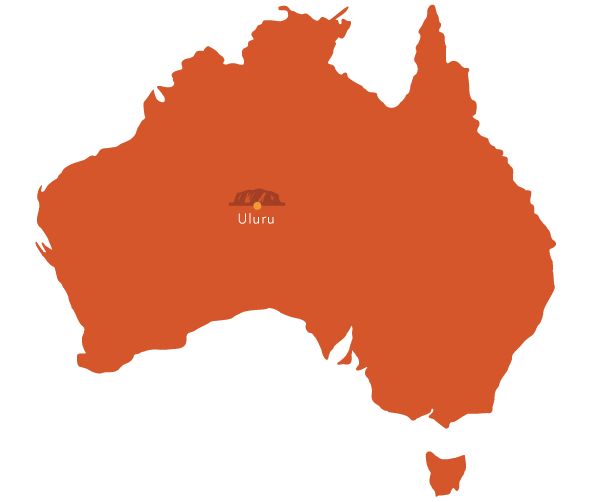 As we approached the rock from the north (at around 11am on Saturday during the school holidays), we suddenly came up on a long line of cars stuck in a traffic jam. They were of course stopped in our direction. Jonathan wanted to just pull off and get some lunch and let the line disperse, but I knew better. It would only get worse, and it did. Turns out that this congestion was caused by the fact that the park only had 2 lanes to enter it by, one of which was for people who had already obtained their passes. Unlike Kakadu, you can't purchase your tickets ahead of time, so you are stuck going down the one lane to get a ticket. They only have 1 person working there at a time, so you can't make the line move any quicker. Very terrible setup for one of Australia's most popular parks. For those who are curious, the park tickets cost $25 per person for 3 days, or $32.50 for an annual pass.
My plan was to simply do the long walks at each destination (Uluru and Kata Tjuta), which I figured would get us away from the crowds. However, since it was after noon and each walk would take 3+ hours, I figured we would pick off the few short walks that weren't covered by the larger ones, which was the Walpa Gorge at Kata Tjuta. We also checked out the view from Kata Tjuta's dunes.
Next day, we decided to do sunrise at Uluru. This and sunset are supposed to be epic. While interesting, sunrise, while less crowded, was definitely not as gorgeous as I was hoping. The main reason for this is that the main lookout is positioned south of the rock. Since we are south of the equator, the sun is always on the north side of the rock, especially at this time of year. So, we only saw a few small rays hit hit the rock, not the entire rock suffused in sunrise glory. I guess this is why sunset is more popular (lookouts are positioned on the north side of the rock), beside the fact that not many people want to get up and going before 730am in the morning, especially since you can't camp in the park.
Uluru at sunrise.
Uluru in forefront, Kata Tjuta in background.
Kata Tjuta at sunrise.
Since we were already near Uluru, we decided to go ahead and do that 10.6 km walk around the base. This is a bit deceptive, as you only get to go near the rock on half of the circumference. The other half you are far away, but not far away enough to capture the entire rock in your photo (without panorama mode). It was a good walk though, and less busy, especially since we started early. There were quite a few people though who took advantage of the fact that you could cycle around it, which may be a better alternative to what we did. Interestingly, there were many sections of the rock that were considered "sacred" or culturally sensitive, and they didn't want you taking pictures of that section. What I found fun about the walk was the little garden sections nestled in inside corners of the rock. You would walk from the desert plains and into a little oasis with trees and waterholes, which were made possible by the water that flows off the rock after the rains. Even while driving or walking around the rock, you don't immediately notice these sections, so they are a bit like secret gardens.
When camping nearby that night, Jonathan noticed a unique vehicle that had been all over the world and had US plates on it! We were so excited. It was the first vehicle we had seen that had also been temporarily imported under a carnet. And the 3rd group of people we had met from the States. We chatted momentarily, but it was getting dark and they needed to set up camp (plus we had dinner on the stove), so we parted ways. But, the next morning, on our way to Kata Tjuta, we stopped to talk for longer. It was really fun to talk to people who had done similar things. And, they had already visited New Zealand, so we could pick their brains about the experience.
Our last walk was the Valley of the Winds (7.4 km) at Kata Tjuta. They weren't lying; it really was windy between those conglomerate rocks! It was also beautiful.
Fun Note:
While traveling in Australia, I have recently learned that people have different ideas about what constitutes a good sunset or sunrise view. Growing up in flat southwest Kansas, my definition of a good sunset/rise is 1) whether the horizon is flat enough for you to see the sun appear to "grow" in size and turn orange and red in hues, and 2) whether there are clouds in the right places so that the sun can cast gorgeous colors on them. (I love it where there is that purplish pink against that dusky blue cloud!) However, most people in the outback define whether there is something pretty to cast golden rays on while it sinks. For example, in Bungle Bungles, one of the "best" sunset watching spots was up on a hill where you could watch the sun change the colors of the hill. Here in Uluru, they define it as a good spot because you can see the rocks change color. Definitely a different focus.